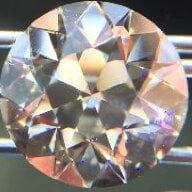 Joined

Aug 25, 2016
Messages

130
Let's say you are planning to have VC or
GOG
custom cut you an OEC and you have a stone budget ~$24,000, give or take a few thousand.
Let's also say you are entirely too anal and have built out a spreadsheet with projected costs for various stone sizes/ct in the I/J/K range.
Let's say the following combinations were all in the $24,000 budget range. What would you prioritize and why? How would you choose?
(Stone to be set in a 4.5 size rose gold band.)
ct Color Clarity Price Price/ct
2.1 I VS2 $24,000 $11,429
2.25 I VS2 $26,213 $11,650
2.25 J VS2 $22,275 $9,900
2.4 J VS2 $24,000 $10,000
2.5 J VS2 $26,875 $10,750
2.6 K VS2 $23,660 $9,100
2.7 K VS2 $24,840 $9,200
2.8 K VS2 $26,040 $9,300
For me, personally, I'm leaning toward going with one of the J's to allow for the eventuality that the stone could come out 1 color grade lower than expected. But the thought of a 2.8 K for a similar cost is tempting, and I really don't think I'd mind an L if we're off a color. Also, a friend who wears a 1.75 OEC thinks anything over 2 ct will be too heavy for regular wear. Do any of you ladies with tiny fingers wear your 2 ct + rings regularly? Is it something to actually consider? Since it's going in a rose gold setting, I really don't feel a need to prioritize color all that much.
What do you think, what would you shoot for? Anyone with experience having a stone custom cut have any additional information I should be considering?
Thanks all! And don't worry about correcting any of my projected costs - they've been intentionally skewed for the purpose of this post.