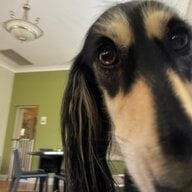 Joined

Jan 22, 2014
Messages

4,354
I do so love Opals. I more recently discovered Ethiopian or Welo Opals. These are quite different to Australian Opal, very translucent. Also much cheaper to buy, especially in bead form.
After I broke my Amethyst bead necklace and lost a few beads to damage (them bouncing down concrete stairs after the thread snapped) meant that by restringing the remaining beads the strand would be just too snug for comfort. It was already snug so I decided to get extra length by adding in opal beads. I was very pleased with the result. As I bought a number of strands to see what size / shape was best I had lots left over.
Here are my two next opal bead necklaces in progress.
The opal heart is Australian Opal set in 14kt gold, the small gold beads are also 14kt.
The other necklace with the pear shape I used some emerald beads I already had, not enough to do anything major with but enough for this project.
Still to finish them both with clasps but I'm pleased with how they look.