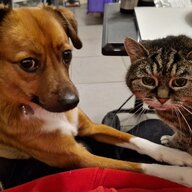 Joined

Jul 7, 2013
Messages

8,737
I have had both injections of AZ with no side effect except a sore arm.
England's lifting of final Covid-19 restrictions that is scheduled for 21 June 2021 may be delayed due to the so-called "Indian" variant that appears to be easier and faster to spread than the so-called "Kent" variant.
Friends in the hospitality sector are bracing themselves for a 4-week delay.
Domestic tourism is thriving due to continuing uncertainties with foreign travel.
Although some travelling restrictions have been lifted on UK side, certain EU countries appear to be less keen to welcome the Brits back.
Personally, I am glad to have made the decision not to go camping in France in September 2021 a few months ago, and booked myself a trip at my favourite camp site instead.
I have booked my flights to Vancouver for November 2021 in the hope to go and visit my folks there. Air Canada will permit changes to the flights at no cost for a limited period.
Hopefully, further restrictions will be lifted by then, and if necessary, I shall pay for the PCR tests before and after the trip myself, as long as I do not have to quarantine in a hotel on arrival in Vancouver and when I get back to England.
I do not normally look forward to visiting my mum (and bro), however, it is different this time in that the pandemic has made realise freedom of choice is a privilege that can easily be taken away at the blink of an eye. Time spent with friends and family is precious.
I have booked a trip to Venice for February 2022. It is on my travel bucket list, and I would like to see it before it sinks, just hope the travel restrictions will be minimal by then.
Not strictly related to Covid-19, however, one theatre trip to the Big Smoke as in London has been postponed to September 2021 due to having to look after a bouncy puppy and not due to Covid-19 restrictions. A 2-night tester camping trip has been booked at a camp site near me at the end of June 2021, in the hope the puppy will be ready to go camping by then.
Life is slowly getting back to normal or the new normal, and it feels good to be alive and well.
DK