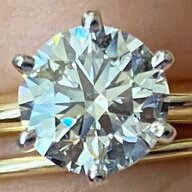 Joined

Jun 9, 2011
Messages

73
Last week I received my
WF
ACA
upgrade diamond and I'm confused about light performance and fire. I'm not sure if my expectations are unrealistic or if I selected incorrect angles for the fiery look that I prefer. Or, maybe I just need to get used to my new diamond's personality.
The diamond that I am upgrading has a lot of fire and looks great in most lighting. In sunlight, it shoots big bold color flashes. In diffused light, it shimmers. In big box store lights, it is a constant ball of fire. However, it does look lifeless on a cloudy day or inside the house. And a darker center is evidence of the steep/deep proportions.
I selected a
WF
ACA
in hopes of keeping the fire that I love and adding the brilliance lacking in my original diamond. I expected my new
ACA
to outperform my old steep / deep in every category - but it didn't. In sunlight, it is pretty but it isn't a fireball like my original ring. And in other fire lighting situations, it just seems a teeny bit less fiery than I expected.
Is this just what happens when you have more balanced proportions? Or could I increase fire (and keep the brilliance) by selecting different
ACA
proportions? Are all ACAs about the same in fire and brilliance, or do some combinations lean more one way or the other? And, why is my original diamond so fiery?
I'm not sure if this is a factor, but my original diamond has strong fluorescence. The
ACA
certificate states negligible fluorescence, but it definitely has a medium level.
Original diamond
Measurements from AGS Megascope
Diameter 6.51 x 6.55
Depth 4.12mm 63%
Crown 35.9 14.7%
Pavilion 41.7 44.7%
Table 59%
Culet 0.4% v small
Girdle 2.2% 1.6% x 2.8%
WF
ACA
Diameter 7.2 X 7.22
Depth 4.45mm 61.7%
Crown 34.7 15.4%
Pavilion 40.6 42.9%
Table 55.7%
Girdle 1.5% to 3.8%
Culet pointed
Star 50%
Lower Girdle 76%
Thank you for any insight you can give me.