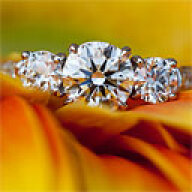 Joined

Jan 7, 2012
Messages

83
I recently posted on where to get my wife's center stone fixed as it had become loose (I live in Canada). I originally bought it from BGD, and in then end I sent it back to them for repair.

So off it goes to BGD and didn't hear anything for a couple weeks so I gave them a call. there was some kind of mix up and they apologized for the delay. I asked how they were going to fix the worn down claws, they appeared much thinner than in my original photos I took of her ring. The lady rambled on about what they were going to do, but I never heard anything about how they actually repair the claws. I didn't press much as it felt like I was bothering them.

I decided to call back after a couple days hoping to clarify on the claws. Same lady again this time, so I directly asked are you going to be adding onto the claws as the metal has worn away. It seemed like I was talking crazy and she had never heard of such a thing. I've heard other family members say they have had their claws rebuilt after years or wear. So whatever I guess I'll just let them do whatever it is they do, and see what happens.

We received the ring today and it clearly looks like the claws have been rebuilt/added onto/ whatever you want to call it. So I'm asking the forum members here how do they fix worn claws if they say they aren't adding any metal back onto the ring.

For those wanting to know about my experience with BGD after the sale here's my mini review:

The ring looks fantastic! Although every time I phoned it felt like I was bothering them and it seemed like the person on the phone didn't listen to my questions. I had trouble getting words in, and I feel they should do more listening and less talking. I should say that I was transferred to Leslie to discus shipping options and she did a good job at explaining. I was mostly having a communication problem with just one employee. In that employees defense I am a fast talker, and I can get hard to understand the more nervous I get.