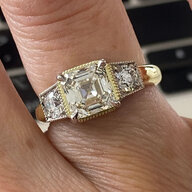 Joined

Jun 25, 2019
Messages

177
My original post is here:
https://www.pricescope.com/community/threads/new-project-2ct-oval-semi-bezel-ring.252770/#post-4640668
Sorry to start a new one but I couldn't edit the title in case people were curious to see the end result.
So my jeweller rang to say that my ring was ready! I was about to contact him to see how he was progressing but he beat me to it. He did say over the phone that he wasn't able to get the two smaller diamonds set on the sides which disappointed me a little, but he said I was welcome to take a look at the ring first and see what we could do, perhaps with smaller stones.
Anyway, as soon as I saw her though, I knew she was perfect as she was. Simple was definitely best so I told my jeweller not to worry about the hidden stones. I was able to take her home later that day after a polish. I was so worried that his initial hand-drawn design was too simple but it's just right. The stone stands out enough as it is. It never seems as big loose, but set in a ring... wow!
I will try and take better photos later but these should give you an idea
My jeweller nailed the gold perfectly. It's 20K which he said is still durable enough but the colour is just that more rich. My inspiration was the lid of a Tiger Balm jar as it worked with the M colour stone so nicely. It's a beautifully weighty ring using all the gold I had lying around doing nothing.
Very happy. Still haven't told hubby who will find it difficult to believe this project cost under $4500