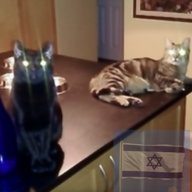 Joined

Jun 8, 2008
Messages

45,884
So there is a 2020 coping mechanism thread and I thought we could use one for 2021 as this year is continuing to be challenging for many of us.
I feel hopeful in more ways than I did in 2020 because there is a vaccine and people are getting it.
I am disappointed in the slow and inefficient way the vaccine rollout is going but hopeful it will improve as time goes on especially with our new leadership.
I am relieved my DH had his surgery to remove his cancerous thyroid and inflamed parathyroid. We are still waiting for the pathology report so I am a bit apprehensive about that but hopeful it will be good news. Please.

I am also hopeful this helps his kidney stone issues that caused him to have two kidney stone surgeries during Covid 19.
I am thankful our animal rescue groups are doing well and the homeless animals are finding loving homes. I am thankful our ferals are doing well despite winter being here.
And last but not least I am hopeful for our country because of the change in power. Please don't comment on specifics since we are not allowed to discuss politics but just this one statement. I am hopeful for the future.
As for coping mechanisms mainly I remain thankful and grateful for all the good in our lives and for the fact we are still here. One day at a time. I am thankful my DH is recovering from his latest surgery and still has his job and he can WFH for now. I am thankful we have food, shelter and the creature comforts. I am thankful my parents are still with us and pray they can safely get the vaccine soon and get protected from Covid 19. My dad will be 87 in April. I am so thankful my parents are doing OK despite being very frail. I miss them and so badly want to see them but cannot compromise their safety in doing so and so we wait. I am thankful our kitties are doing OK despite Tommy's very fragile health and thankful for each day he is here with us eating and purring and loving us and us him.