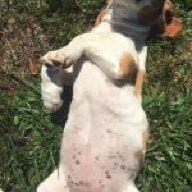 Joined

Dec 27, 2013
Messages

2,740
What do you think? Should there be more definitive language on what constitutes a "comfort" animal and who is allowed to bring them on board? Do you think people should have to register (or have a national registry) for their service or emotional support animals? I personally know people that need their service animal. OTOH, a pet photographer bragged to me earlier this week about getting to take her dog everywhere because she pretends she needs him.

Attention, fliers: You may need to leave your 'comfort' animal at home
http://www.usatoday.com/story/news/2016/10/11/airlines-emotional-support-animals/91721824/
To calm his nerves for frequent airline flights, Jason Ellis swaddles his marmoset Gizmo in a blanket and tucks him into his shirt.
"You look into his eyes, and it's like looking into human eyes," said Ellis, 30, of Las Vegas, who travels weekly for work on innovative lighting for growing cannabis. "Just having him with me, it's like your security blanket."
Critters like Gizmo, a species of monkey, are allowed to tag along on flights as emotional-support animals for their owners. A wide variety of animals from turkeys to pigs have joined the stampede of an estimated 100,000 animals riding in airline cabins each year.
Airlines would like to close the barn door on emotional-support animals that the Transportation Department opened during the 1990s. They want to limit the animals traveling in plane cabins to trained service dogs, such as those for the blind and deaf. The airlines would also accept miniature horses, as recognized by the Americans with Disabilities Act.
Plane crews and federal officials suspect some travelers are sneaking pets aboard planes in the guise of comfort animals to avoid paying fees of about $75 per flight for pets kept in containers beneath seats. Comfort animals can sit on their owner's lap if they are leashed.
"It's getting out of hand," said Richard Bogash, a marketing executive from Hallandale Beach, Fla., a member of USA TODAY's frequent-flier group called Road Warriors. "I recently saw a cat freak out in business class on Delta from Europe and fur went flying all over the meal of the customer next to the owner."
But advocates for emotional-support animals say they can treat unseen ailments such as low blood sugar or heart arrhythmia, or simply calm travelers who suffer stress. Alicia Smith, a member of the National Alliance on Mental Illness, said emotional-support animals provide medical assistance as crucial as an oxygen bottle and can help calm an autistic child or a veteran with post-traumatic stress disorder.
DOT debates access for disabled in plane restrooms, entertainment, animals
Earlier this year, Transportation Secretary Anthony Foxx named the Access Advisory Committee to try to negotiate a compromise between airlines and advocates to limit the definition of comfort animals. Since beginning in April, the group has debated possible restrictions on the size and species of comfort animals. But it's not clear it will reach a consensus by the final meeting, which begins Wednesday and ends Friday.
Even without a compromise, the department could propose a change in how it defines the animals, though it could take months or years before the change takes effect. The department is also considering ways to make lavatories more accessible on single-aisle planes and seat-back entertainment more accessible for the deaf and blind.
The animals generate strong feelings on all sides.