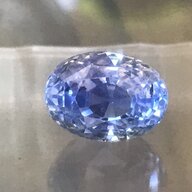 Joined

Jul 14, 2020
Messages

190
Hi there,
In a quest to understand Sapphires (and my own while I wait to get it into the gem lab) I'm wondering if anyone can tell me what I'm looking at here when the sapphires turn clear. I assume it's colour zoning but am failing to understand it - as these are Kashmir sapphires and seem to all have it. My sapphire does this as well... from directly on it's blue but from side on it can appear almost clear ?
I thought this was a bad thing as everything I have read about colour zoning is bad. The examples are usually dark sapphires which don't help me. Mine is very similar to these pics below.
I will post pics of mine in a post underneath (even though I'm terrible at getting good shots of it no matter how I try).

ps I feel bad asking about this as I feel this is something experts know due to their experience but appreciate any help you can offer a layman.
PPS I'm also looking to buy digital calipers and a sonic cleaner if anyone knows where I may purchase these things that isn't too expensive but also aren't crappy quality. Is this one of those *you get what you pay for* things?