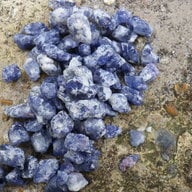 Joined

Sep 7, 2018
Messages

76
OK, this is about a mineral specimen rather than a cut stone, but I was wondering if any of the experts here know anything more about this deposit. I recently acquired a big specimen of green garnet, which I believe is from Ghazni Province in Afghanistan. It's basically a big hunk of serpentinite-type rock, the top surface of which is maybe 2/3rds covered in glittering green andradite var. demantoid crystals. Pic here, although in daylight the green is much livelier in person: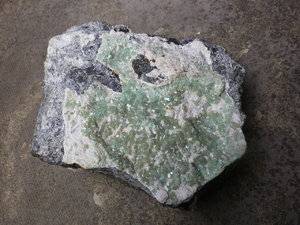 It's interesting how the crystals are sitting on a creamy white fibrous mineral, rather than directly on the rock surface. The crystals are a beautiful mint green in daylight, with some more yellowish green crystals mixed in. Under a tungsten bulb, the mint green colour is muted and washed out, similar to how it appears in the photo. However, under an energy-saving light bulb the crystals change to a rich lime green colour. It's quite an obvious colour change. I'm guessing there must be a chromophore such as Cr or V interacting with the essential iron in there that's responsible for this.
For reference, the specimen is approx 16 cm by 14.5 cm by about 5.5 cm deep, although it is 7 cm deep at one end, and the weight is 1882.5 grams. It's a big piece and my largest specimen to date.
I'd be interested to read any gemmological discussions of this deposit or if anyone here has studied any specimens and can tell me more.
Thanks and regards,
Nick