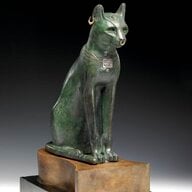 Joined

May 23, 2016
Messages

1,621
Hi and thank you in advance for any advice or help anyone can give.
I am planning a future ring project. I don't have the budget to carry out the whole project at the moment but may be able to buy the centre stone if anything looks promising. I'm planning an art deco influenced style, with a central OEC in an onyx surround (and possibly a coloured stone halo round the edge, but that might be me running away with myself!
), set in a white metal (ideally platinum but budget dependent). I have CvB in mind for the setting as the stone halos on the website look stunningly worked (and I'm waiting on a band from her at the moment so can see first hand too).
Could anyone advise me on whether they think setting a lower colour diamond in onyx would make the stone appear whiter than it would in a solitaire setting because of the contrast with the black stone, or whether you think it could make it seem more ivory/yellow than it would otherwise? I'm trying to get an idea of what colour range to look at and was originally thinking I or J as I thought I'd like a fairly crisp contrast, but I'm wondering if going to an L or even M would save my budget a bit, especially if the contrast with onyx could make the diamond seem whiter? Or, to throw more into the mix, if my budget can stretch I'd love an aquamarine halo around the onyx (small baguettes or french cut?) and I was wondering if a yellow toned diamond with the black onyx and blue aquamarine might actually look quite nice. I'm dreadful at imagining combinations so any thoughts to help me envisage things would be very welcome!
I'm thinking of a diamond in the 5mm to 6mm range (probably the lower half of that range so that the overall ring doesn't end up too large by the time the onyx surround is factored in). If there's any good ones out there at the moment I'd appreciate recommendations but equally I don't have the budget to do the whole ring at the moment so waiting for the right one isn't a problem - I'm the kind of person who likes to have a plan so it would be great just to have input on what kind of colour range could work best for the moment, then I at least know what I'm aiming for!
Thanks for any help and opinions!