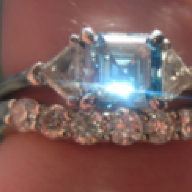 Joined

Apr 24, 2008
Messages

698
So I have a question for you ladies with colored diamonds.

When I was dropping hints to my husband as to what I''d want in an e-ring, I kept saying "colored diamond!" Well, my hints were received and I ended up with a gorgeous blue diamond. Now, I love my diamond and my husband did an amazing job on my ring, but recently I''ve been considering what my ring would look like with a clear diamond as the center stone.

I found a great pair of rhinestone asscher studs. A little kick in my brain had me holding the stud above my ring with a pair of tweezers (centered between the side stones), and with one eye closed, it looked as if my ring had a clear center diamond (does this make me weird?).

It looked gorgeous, and now I''m wondering if maybe I might end up regretting my e-ring. The blue diamond is so pretty, and the color really is TDF, but I worry it''ll look trendy or dated in several years.

Additionally, my current wedding band is a plain pipe cut platinum band. For our upcoming anniversary, my husband has promised to upgrade my ring to something with a little bling. I''m worried the colored diamond will make the new set look too busy.

Sorry for the rambling, but to get to the point, I want to know what you colored diamond ladies think? Are you worried your ring will look odd someday? Am I odd for thinking I''d maybe prefer a non-colored diamond? Have any of you switched a colored diamond out for a clear diamond and regretted it?

This is s20 questions, yes, but I''d really like to know if I''m in the minority here.