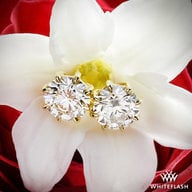 Joined

Apr 9, 2007
Messages

2,264
So, as a tag-along question to my earlier post about Gottlieb & Sons vs. a Jared set, here''s my next quandry... I''ve decided to not even consider the Jared set any longer. I found a better price on the Gottlieb set from Jeff with A Jewelry Stop (
www.ajewelrystop.com
). By the way, has anyone dealt with him? He seems very knowledgeable and nice.
He can order the Gottlieb set for me. Gottlieb uses G/H stones in these rings. My center stone is an I, although it looks very white compared to many stones I''ve seen that are Hs. For all I know, mine could be graded an H, it''s never been officially evaluated by a certified gemologist, as far as I know. I''m basing this "I" rating on the written appraisal from the local jewelry store where my husband bought it.
Here''s the BIG question--will my stone look yellow in the Gottlieb setting? I''m considering sending my ring to Jeff to have him unmount and evaluate the center stone before he orders the Gottlieb set. Or should I just go to a local jeweler and have them grade it? What would I have to pay to have that done?