Hi everyone,
Just wondering if anyone has thoughts on why some diamonds are clear/translucent vs white?
My engagement ring looks really icy white. I've always really liked the clear look when looking at pictures online. Initially, I thought it may be due to lighting or maybe just how pictures are sometimes. I recently met up with some friends and noticed that theirs are more translucent. This is my first stone so I had no reference point on what it could look like in person until I finally got to see people recently.
My diamond is VS2, F, medium fluorescent (but I don't think it's cloudy).
Would the specs indicate if your diamond would be clear vs white? If I wanted to exchange it, how would I go about getting a clear one?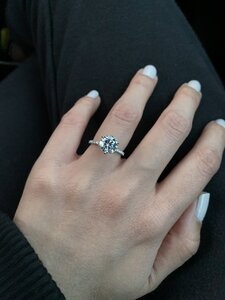 In low lighting it looks a bit more translucent. But when I looked at my friend's diamond side by side in same lighting, hers definitely looked more clear and mine more white.
Appreciate any input!