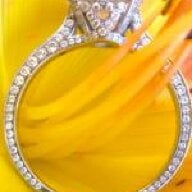 Joined

Feb 3, 2008
Messages

7,948
I have spent the better part of two days cleaning my carpets. They didn't look dirty but boy, were they. I don't know if I am the only one but I do my major cleaning when I know there are people coming over. There are just so many other things I would rather do than clean. I keep up and don't have clutter but the deep stuff like washing curtains, cleaning baseboards and blinds I let go as long as I can. I really don't like dusting all that much either.

I have been thinking about switching out the carpet for hardwood floors. We didn't do it for several reasons when we moved in, but mostly
because the kids were younger and we put a pool in so I didn't want them tromping up the stairs dripping wet all over a wood floor.

So which is easier to clean. Carpets I vacuum weekly and wash once or twice a year, or hardwood floors. Do hardwoods require more upkeep?

I really hate cleaning the individual slats of blinds. I am having shutters put in my son's room tomorrow. Are they easier to clean than wood blinds? I am contemplating putting them all over the house. We ordered 3 1/2 inch slats.

What do you think?