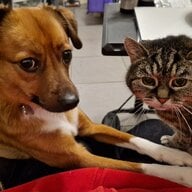 Joined

Jul 7, 2013
Messages

11,843
Please bear with me as I need to let off some steam...
I have purchased industrial chrome wire shelving for use at home since mid 90s, and have always purchased the Metro Super Erecta brand, made in USA.
I needed more storage space in my kitchen diner, and already have 10 x 2200mm poles already in hand, leftover from the relocation in 2006; plus a triangular unit that I already have in the dining area that houses my selection of spirits etc...
So I ordered more shelves and posts from the same range, and started to build the units.
While I was building them, I noticed the shelves had numerous burrs that could have resulted in my hands being cut had I not been wearing gardening gloves. Also, the chrome plating was not very good, patchy in places. Compounded the plastic tag on each shelf does not say "Metro" and is in the wrong shape, and the corners are not stamped with the "Metro" logo, and the shelves were made in Mexico and not USA, I came to the conclusion that I had been sent inferior knock-offs and not the genuine articles that I ordered.
I immediately checked my quote and order, and I definitely ordered Metro shelves and not the cheaper budget version.
Although very disappointed, I had already spent so much time and efforts building 2 shelving units, and it would be a real hassle to dismantle and return them to the vendor, besides, they are good enough for intended purposes; I decided to keep them, grudgingly, and requested for a refund for the difference. The amount to be refunded is quite significant, as there are 17 shelves in all!
In addition, one of my poles had a broken metal insert wedged in one end that I cannot remove no matter how hard I tried as part of it is broken. It means I am not able to complete the kitchen storage project until I get a replacement pole.
No big deal, just very disappointed for being sent the wrong products and finding one of my existing poles is broken, and the hassle involved in putting it right.
Luckily, time is on my side. Although I would love to complete building the shelves for the kitchen as soon as possible, there are other tasks that I can get on with in the grander scheme of sorting out the stuff that I have accumulated over the years in my garage and house since moving here in 2006 while I wait for the replacement pole to arrive - I still have boxes in the garage that I have not opened since I moved in!
BTW, IMHO, Super Erecta Shelving is the best IMHO, and I am building an office desk using poles and shelves that I already have, just needed to add a 3-sided frame at the bottom for improved stability, add some castors so that I can wheel it out of the way when not needed, and some inlays for the shelves to stop smaller objects like pens from falling through.
Rant over, thanks for reading/listening.
DK