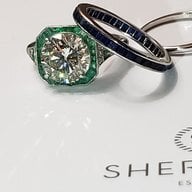 Joined

Mar 7, 2016
Messages

394
I can blame my cousin for my first intro, but all the posts in CS and the gorgeous lab-pad from Gene in here have me longing for something lotus colored. I always assumed a pinkish stone would look washed out on my pale skin but seeing the variety of shades I am convinced I can pull one off. I always preferred deep colors like Emerald green and royal blue, but rubies aren't doing it for me.

The condundrum.

A real sapphire is so far out of the realm of possibility cost wise we won't even go there. That plus the time and effort it has taken so many PSers in search of the right one made me realize I will never have the eye or expertise to hunt for one.

Next thought was similar colored stones, there are some amazing garnets and spinels that have sparkle and the color, but I do not feel confident enough to choose the right one. There are so many variables and I really feel like I don't know why one is better than the other or what attributes make them desirable. Although I know the CS forum would be awesome helpful.

Next up is looking at lab stones. And honestly some of them are to die for. No one in my circle (unless I am at a G2G) will have a clue if my stone is real or not. But just because the stone is lab created is not without its challenges right? I still have to avoid the dreaded window and get the right cut.

I am not in a rush so I can keep an eye on Gene's site, Stag and Finch look amazing and has anyone ever bought from geolite?