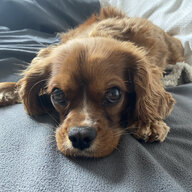 Joined

Oct 8, 2019
Messages

5
Hi!
I wanted to leave a note of gratitude and appreciation for the knowledge my DF and I gained from all the generous Pricescope members. When I first started researching I thought I wanted colorless, near flawless and did not know to care about the cut. DF and I had gone to the San Francisco diamond mart to look at stones and while they were beautiful, they didn't blow me away. After extensively reading through the posts on PS and learning about cut and proportions, I wanted a super ideal diamond. I contacted a few super ideal vendors and we decided on HPD because they had stones in the specs and price range we wanted. DF and I were able to see 4 CBIs in person and I was instantly mesmerized. The sparkle, fire, and scintillation were unreal! Thank you so much to Wink, Layla, and Melissa for their help in creating such a beautiful ring!
Layla had asked DF to post a review after the ring was delivered so you can read about his POV
here
. (DF did not include any pictures bc he knew I'm a lurker and didn't want me to see it before he proposed.)
I'm going to include whole bunch of photos and videos mostly bc I don't have anyone else IRL who would appreciate them lol I'll also share some information that we were personally seeking on our journey in creating the engagement ring. Maybe it will help someone else in the future.
Timeline
11/20/19: finalized setting, paid
1/10/20: ring completed
7/24/20: proposal (I didn't find out until afterwards that the ring was in our home for SIX months! The pandemic threw a wrench in DF's proposal plans.)
Diamond
2.08 G SI1
- I could see the tint in the H so we went w G.
- When I first saw the ring, I was like OMG it's huge! I actually started looking for a smaller diamond. I had seen the stone before purchasing but the prongs make it look bigger. Now that I've worn it for a few days, I'm more comfortable with the size. Who knows, DSS may even set in...
Setting
- 18K unplated WG shank, 6 prong platinum head, hidden halo w pink sapphires, our birthstones embedded in the inside of the shank
- Size 4 (ring is actually sized a bit bigger to accommodate for swelling and wt gain. Got
these
for tighter fit, don't even notice that they are there.)
- 2mm shank. Initially wanted thinner but Layla persuaded me that 2mm is plenty thin and more durable- she was right! Thanks, Layla!
- cathedral setting. was hesitant of this vs peg but I do feel more secure knowing the head/diamond is better supported
- When I tried on 18k WG settings at the SF diamond mart, it was a nice muted yellow. HPD's WG is really white and compared my ring to my sister's HPD platinum ring they look basically the same color. The WG is a great metal color, just not what I was going for. I'll wear it for a few weeks and see how I feel about it then. Doubtful I will be able to switch the whole shank to YG at this point though.
Okay enough talking, let's get to the good stuff- pics and videos!
First, 2 **non-CBI** diamonds I saw at the SF diamond mart. (For reference, the 2.31 G Si1 was about the same price as the CBI 2.08 G Si1)
When I fell in love w the CBI diamonds:
Certificate and stats: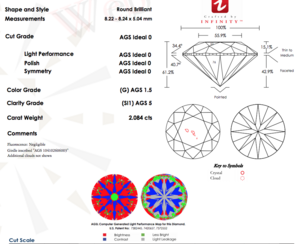 CAD: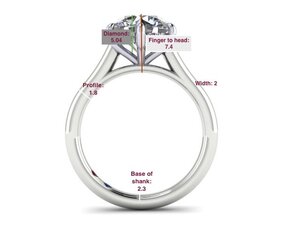 RING!