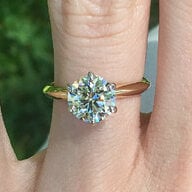 Joined

Jan 21, 2018
Messages

76
Gosh I am so overdue in posting this! About a year ago I had the opportunity to view CBI diamonds in person after months of research and PS-ing... I was much more of a lurker than a poster, but I wrote about my experiences in this thread upon seeing CBIs for the first time:
https://www.pricescope.com/community/threads/seeing-crafted-by-infinity-diamonds-for-the-first-time.238651/
Fast forward a few months after that and my dear fiancé proposed to me last summer with the most beautiful diamond ring I could have dreamed of. I'll post a thread to SMTB with some pictures soon, but I just have to shout out again about our experience working with Wink and Melissa at High Performance Diamonds. The busy-ness of wedding planning kicked in and I can't believe I never got around to sharing our experience here!
The diamond search process was tough before finding PS and High Performance Diamonds. I started out dead-set on those little blue boxes and champagne service, and soon realized there was so much more to diamonds than blindly trusting what came in those boxes. Getting over that brilliant marketing became a no brainer... but then came the question of WHICH super ideal and WHY? I wanted to share some details of our experience here so that anyone who is on the fence about about their diamond purchase can read another example of what it's like to work with CBI and HP Diamonds.
I first found the HP Diamonds website after seeing the iconic photos of
@cflutist
's GORGEOUS rings, so I reached out to them to get some more information. That was the best decision we made in the diamond process. On day 1,
@Wink
emailed me back answering questions until 11pm on a Saturday night. Then we started working with
@Winks_Elf
who patiently and gracefully answered my much-too-detailed questions every day, and put together a wonderful selection of Crafted by Infinity diamonds for me to see in person. With my fiancé being in the military and stationed far from any decent places to view diamonds, the leg work of the diamond search was on me to figure out my tastes and preferences. After seeing the Crafted by Infinity diamonds in person from G-K color and VS1-SI1 clarity, I determined that "I" color is where I felt most comfortable to be "mind clean" and that "eye-clean" was good for me for clarity. The trouble was, there were no diamonds in their current inventory in the size and color we were after. To hold onto any element of surprised left, thankfully the timeline and budget part of the diamond search was not up to me. This is where my fiancé took over working with Melissa to find the best option for his budget and timeframe, given my tastes and preferences after seeing them in person.
Melissa and Wink pulled out all the stops to find him a diamond in the parameters -size, color, budget, and timeframe- he was looking for. We are so thankful for their attention to our wishes and needs in all of these areas, and they presented the most perfect option: a 1.55 ct I/SI1 Crafted by Infinity diamond that would be ready in a few weeks just as he needed. My fiancé had already arranged to have a custom setting created at a local jeweler to me, but Wink and Melissa went the extra mile. Instead of sending the diamond directly to the setter, they sent it to my fiancé with an additional label to use to send it to the jeweler after he had viewed it in person. Their sensitivity to his situation in being stationed far away and his desire to still be involved in the diamond search/selection process was truly one-of-a-kind. It allowed him to feel included even though much of the earlier legwork was on me. In addition to all of this, Wink and Melissa set him up with some really special "extras" as a huge thank you for his military commitment. As some of you may know, Wink is a retired Marine Staff Sergeant and Melissa's son is proudly serving our country in the Navy as well. We really had a top-level experience working with them and cannot recommend High Performance Diamonds and Crafted by Infinity enough. The diamonds speak for themselves, but the customer service and attention to detail is what really takes their business to another level.
We're already working with them again on bands and earrings for the wedding day, and have recommended them to friends who are in the engagement ring search. They have some newly announced specials and restructured pricing along with a greater inventory than what we first saw when we started looking last spring. If anyone has any questions about our experience I'd love to answer them here. Thank you also to
@cflutist
for sharing all of her photos and experiences as well, as that's what tipped the scales to make us reach out to HP Diamonds in the first place! We are so happy we did!