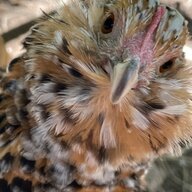 Joined

Nov 4, 2011
Messages

275
So I just purchased this on ebay. It was listed as just a cat's eye, but I assume it is a cat's eye tourmaline. The ring is silver, stamped 925 and Mexico. I am thinking if it is a tourmaline it is probably from Brazil. But I would love to know if any of you think it could be something else (i.e. not a tourmaline).
I am somewhat amazed how nice it is! Beautiful movement on the eye, and amazing milk and honey effect. To give a sense of scale, the stone is about 1.5 cm long. While it looks almost plasticy in the pictures, I would say it is IRL it seems very gem-like, translucent but not transparent. The eye sort of glows and in some lights there is a double line.
The back of the ring is sealed so I can't look at that.
Sorry only indoor shots this evening. More tomorrow.
Fel