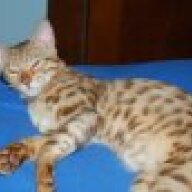 Joined

Feb 9, 2006
Messages

132
Hi Everyone!

I know that there are a lot of cat lovers here and I am hoping that I can get some advice. I have a 1 and half year old Bengal, Kenya, who has just recently started to throw up her food. I kid you not when I say that before last month she only has thrown up one time in her "kittyhood" and has never had a hairball. I have heard that Bengals tend to have sensitive stomachs, but can that start all of a sudden?

Kenya has not been throwing up everyday... probably every 3 or 4. Other than this, she is acting perfectly normal. Her energy level is abundant and all of her other "functions" are fine. We did notice that she became sick a few times after giving her treats so we totally cut those out, but she still has been sick a few times. I did call our vet on Friday to see if she thought that we needed to bring her in(I worry over the smallest things) and she thought we should first try a change in food and bring in a stool sample. We are currently feeding her Innova Evo(dry) and nothing else. The vet suggested putting her on a senstive food diet. She suggested Purina One, Iams, or Science Diet. We did buy the Purina One and are going to try to gradually switch the food over, but do you have any recommendations? My vet doesn''t seem to recommend the high quality food and that is what we have been trying to provide her.

I grew up with two siamese cats who are always throwing up. When I brought the issue up to my parents, my mom said she didn''t know why I was worrying since she has cleaned up after these two everyday for the last 13 years haha. At the beginning they had tests done to make sure all was fine and everything was normal so they just eat a senstive food diet.

Have you guys had any cats with similar issues? Sorry for the long post!