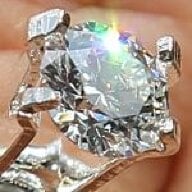 Joined

Apr 25, 2014
Messages

6,867
So... I'm considering getting a ring made for my good lady but am limited on budget and fear my expectations exceed that budget (as usual)!
It needs to be sturdy yet look very delicate.
It needs to be perhaps only 3mm wide.
It would need to be very low / snug to the finger.
I would want it to perhaps look like a vine plant / climbing rose - sort of flowing but natural.
It may need a stone of some kind included.
It may need to be platinum.
In terms of examples...:
This is too chunky:
https://www.etsy.com/uk/listing/255492301/14k-rose-gold-morganite-engagement-ring
This is cool it terms of 'squiggly-ness' but it would need leaves or similar and I guess is not really anything like I want

:
https://www.etsy.com/uk/listing/609360340/rose-ring-925-sterling-silver-flower
This is pretty good but the stone is far too high because it would need to be set sort of within the ring:
https://www.etsy.com/uk/listing/598649202/moissanite-engagement-ring-rose-gold
The right hand ring (without the main stone) is pretty good on this one:
https://www.etsy.com/listing/286547345/2-carat-morganite-engagement-rings-14k
This is nice in terms of complex-but-simple look:
https://www.etsy.com/uk/listing/260457140/connie-14k-rose-gold-plain-twist
The filigree pattern is quite nice in this but it's far too chunky and doesn't 'flow':
https://www.etsy.com/uk/listing/599975627/14k-rose-gold-filigree-wedding-ring-14k
Does any of that make sense?? I think I would kind of want it 'many strands forming one', if you know what I mean...
Is it possible to cast such a ring or would it need to be hand-worked from wire?
Are the third and fourth examples above just CADs, therefore suggesting casting?
Would they turn out like these in real life? (which look, er, 'clunky'??)
https://www.camelliarts.com/products/an-0003l
https://wexfordjewelers.com/products/signature-rose-diamond-rose-gold-wedding-ring-set
I'm guessing that custom hand-working is a lot more expensive than cast... lol