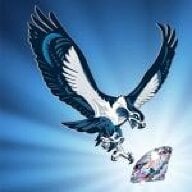 Joined

Apr 8, 2014
Messages

1,227
I follow a great blog about debt and money management and there are two schools of thoughts on investments: Do you use debt to leverage yourself into a position to increase cash flow OR do you eliminate debt as much as possible to operate solely on cash flow, minimizing risk in things like real estate?
That is not particularly applicable to the jewelry world as investment grade gems are not something I spend a lot of time thinking about - but the concept of debt for a jewelry purchase got me thinking:
B2C
recently began offering 0 percent financing options and I know several other companies offer financing for jewelry at differing levels of percentage rate, length and maximums/minimums.
For people who buy jewelry without the cash on hand for the purchase, is the perception that using a credit card is a better way to go, or is financing through a company (or 3rd party) more likely to encourage a purchase (especially if you have found 'the one')?
What creates the preferences and can you elaborate as to why you prefer one of the other (I assume EVERYONE would prefer to use cash upfront - but maybe not if there is a 0% interest option and you can leverage that money elsewhere as you pay off the large jewelry purchase?). What other considerations are there for financing vs. paying outright?