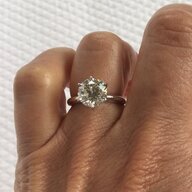 Joined

Feb 18, 2018
Messages

58
I was going to reset my 1.4 brilliant cut diamond from a plain, thin shank solitaire setting to a setting with pave stones however; I have now decided to purchase a different wedding band with smaller stones which will complement my center stone. I am looking at three different bands; one from Cartier which I tried on Friday and two from Blue Nile. The Cartier band is the Etincelle eternity band set with .22 carats of brilliant-cut stones, 1.52 mm wide.
While pricey, the Cartier band fit like a glove and looked stunning with my solitaire. Not too wide, not too narrow, not too thick I have short fingers so the width was perfect and very comfortable. I am more of a "brand name" gal and do not have a problem spending more. The price of this band is $2,580.
The second band from Blue Nile, the Riviera Petite Micropave Diamond Eternity Ring, .25 carats, was not available to try on in the Blue Nile showroom I visited on Friday. Also, this band is only available in half sizes and the Cartier band is available in quarter sizes. My ring measures 5 1/4. The price is $1,080. The width of the band is 1.5 mm. The height is also 1.5 mm and would fit with my solitaire as well.
Option number three, also from Blue Nile, is the Riviera Pave Diamond Eternity Ring is .50 carats, width, 1.9, height, 1.6 mm. The price is $1,590. Again, the showroom did not have this exact ring so I was unable to try it on and see the size of the stones.
My engagement ring a the Petite Nouveau Four Prong Solitaire Engagement Ring from Blue Nile (see my avatar photo). The width of the shank is 1.9 mm. I am having it sized down to a 5 1/4 because currently it is a 5 1/2 and continuously spins except in the summer.
My original wedding band was an estate eternity band that was purchased on vacation the week we got engaged. The first month I wore it, a stone popped out and had to be replaced and all the prongs had to be rebuilt. After the prongs were rebuilt, the ring was not comfortable but scratchy and I stopped wearing it. Also, the stones in natural daylight did not have a lot of fire to them and appeared quite dull. The appraisal labeled the total carat weight as 1.0 but it looks more like .50 carats. That would be fine if the stones had some fire to them. We are selling this band back to the store where we purchased it. I am trying to avoid another band issue as this purchase will be our third band attempt to match my ering.
Any assistance/feedback would be appreciated! I am not restricted by a budget for the band but I want something that I will LOVE forever and that is really comfortable on my finger. At this time, I am leaning more towards the Cartier.

Last edited: