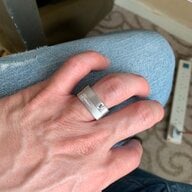 Joined

Sep 11, 2012
Messages

2,561
I finally got my carre eternity reset.
I didn't like the side rails for the channel setting when I first got them. But it fitted so well with my asscher that it didn't bother me. It only bothered me when it was a stand alone ring, but I never did wear the carre eternity as a stand alone. It was always paired with my asscher solitaire. No issues.
it was resized because of weight gain, which meant that there was a sizing bar and not a full eternity. That was ok....
It wasn't till I got my asscher eternity that another small issue with the height of the carre eternity. It was lower than the asscher eternity. The size of the asscher was right visually. So the height and other 2 issues of the carre eternity got to me.
so, I got to reset my carre eternity to
Include diamonds to make it full eternity again
Same height as the asscher
Thinner side rails...
An incidental finding:
The carre has one stone thathas faint/slight fluorescence, which happens to match my assecher eternity with a medium to strong fluorescence!!
here are a few pics... also getting ready for Xmas and playing with colours!