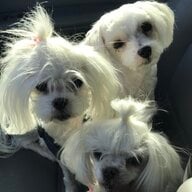 Joined

Mar 23, 2021
Messages

417
I'm new to buying antique jewelry. I've been searching for an Art Deco carre cut diamond eternity band in a channel setting for a few weeks and would really appreciate some input. I'm thinking of using it in a stack so this would be my foundation piece. I'm open to 2.5 mm to 4 mm band width.

- Should I get half eternity or full eternity? I don't want to baby my ring. For those PSers with any full eternity band in a channel setting, do you feel that it's delicate or okay for day-to-day wear. I have an oval eternity band but due to the setting where there's no prong at the top and bottom edge, it's quite delicate so I don't wear it all the time for fear of chipping a stone. I figure the channel setting would offer more protection to the stones?
- Should I pay more for a brand name, for example, Tiffany, Oscar Heyman, etc.? I'm assuming the branded one would have good quality diamonds and more evenly matched; therefore, warranting the premium.
- Would the diamonds in a 2.5 mm band width be so small that one can't really make out the carre cut? Should I look for 3 mm or wider?
- Should I have one made? The price for the same carat weight band from the same brand seems to vary by $ thousands. Is the antique one more valuable than newly made?

I'm currently considering a 2.5 mm half eternity and not sure if I should wait for a full eternity and/or wider bandwidth being that I've not seen one/try one on in person.

Thanks in advance for your input.