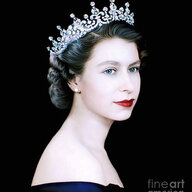 Joined

Oct 24, 2012
Messages

4,608
Mr T has taken me by surprise this week BIG TIME. We are not frivolous people, but have a comfortable home & nice things, holidays etc. I have always driven Jeeps, but 18 months ago my beautiful workhorse Cherokee needed major work to the tune of £2.5k due to a split air intake system. I had to part exchange quickly as it wasn't safe to drive over 30mph, plus was a few years old so not worth repairing as I was due a car change. I bought a Nissan Qashqai for a bit of variety. It was new & lovely, but not very me. I haven't grumbled about it, but Mr T knows it's not really my thing & that where we live (very rural, muddy lanes, snowy tracks in the winter) requires something with a bit more torque come the cold & wet season. I muddled on with my Nissan last winter, but it wasn't holding the road very well on occasion & made me twitchy. When my youngest was 8 months old, we skidded out on black ice here on the lane, spun 360 & crashed into a telegraph pole. I tore the muscle in my shoulder trying to control the car on impact, baby was fine if crying, and the Jeep lost it's front number plate. That was it. Not a scratch. Garage said that's what a Jeep is for. But being in the UK, we found the Jeeps very costly to maintain, so I am trying to steer clear of another one.

Fast forward to this week & Mr T asked if I would like to go car shopping. Wait, what??! We have been lucky in that we have no debt for anything or mortgage on our home, so he decided we should live a little & get two new cars WITHOUT ACTUALLY NEEDING THEM. I almost fainted!

Today it's test drive day for me after lots of looking yesterday & I think I have narrowed my choices down to a Range Rover Evoque Dynamic, or a Discovery Sport. Style wise I like them both, though the Discovery has more practical boot space & easier rear view through the back window. But the Evoque is sexy AF.

Do you own either & what are your thoughts, pro's, con's etc? This is exciting for me & I don't want to get it wrong, as it's a lot of money from our pot & I will be keeping this car for a fair few years to come.