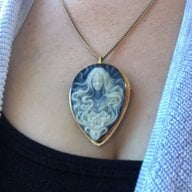 Joined

May 14, 2010
Messages

1,222
I'm looking to replace the center stone of a ring I own. I'm going back and forth between gems and diamonds, but the reality is if I *could* I'd really prefer a diamond. I just have no idea what I'm looking for in terms of quality. The dimensions have to be 8x6 or under. The ring currently houses an 8x5 pear stone. I found this one:
http://www.eternitydiamonds.com/diamond_detail.php?id=498302&ref=pricescope
but I've been told that my budget needs to be about $2k for the stone. I can't do that. I have to stay under $1200 if at all possible to make this happen. It's going to be bezel set, and I don't really mind lower colors. The ring is 18k pink gold with a platinum bezel and white diamond pave.
I'm looking for any help I can get because I've never bought anything this expensive online before, but I have a feeling there are better deals to be had if I do so. I am hoping to pull from your collective wisdom if I may. Both on the quality of the stone and the reputation of the seller. Thanks so much!