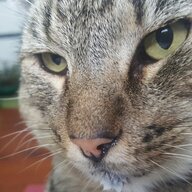 Joined

Apr 30, 2019
Messages

7,134
So this might not be the right place but i don't just want to see Grandma's diamonds and natural sapphires, i want to see the inherited pearls and paste and man-made gems of her's that you also treasure
Inherited and gifted
I wish mum had given me stuff when she was still alive so i could have known more about some things
So often i see threads asking the value or authenticity of an inherited piece and i feel dismayed that something pretty may not be loved or worn and appreated because its not 'real', disregarding family history and sentiment
Im always inspired by some great ladies of history who mixed and matched real and faux
My great aunty had lots of lovelly (but terribly outdated by the 1970s) sparkly paste pieces that we would play with as kids - i think that's where i got my inner magpie from
As sad as it is they are long gone we certsinly enjoyed playing with them so all was not lost
And now i have her very real vintage diamond ER to remember her and her bling by.
So what highly sentimental pieces do you have from your nanna, great grandma, or even mum or aunty, or inlaw that you absolutly adore
real or otherwise ?
Or maybe its a tea cup ...or an entire tea set ?
What would you most be sad about, if after your demise, your family sent it off to the local charity shop unaware or unappreciative of your sentimentality ?
By the way im on a bit of a pearl thing at the moment so I'd love to see Granny's pearls - real or much loved faux
The first for me
is grandma's goldtone berry brooch.
I always loved this. I remember her wearing it on a sage green coat dress in the mid 1970s
One day im going to take it somewhere and get a Stirling silver copy made
the 2nd is her engagment ring
its small by PS standards, but would have been more than acceptable back in her day.
I've had it valued and its worth not an insignificant amount, my grandad would have saved up for it on a trademen's wage durring the depression-
it reminds me of as much of him as it does of her and im very lucky to have it as the oldest daughter of the only daughter, as i have 4 female cousins older than me who knew grandma for longer than i did
The eternity ring is from Dad to Mum when i was born
When Mum had altzimers she stopped wearing her ER - like she forgot it and Dad and us but she remembered her own parents and she wore her mother's ER
My sister saddly had to prize it off her finger at the nursing home as they could not guarantee its security
Even though the ER is worth much more than the brooch i love each equally just like my grandma loved all her grandchildren
I'm a sentimental old fool
So show me yours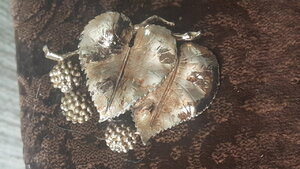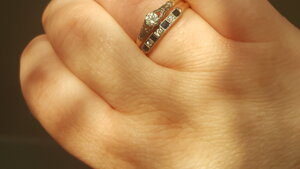 Last edited: