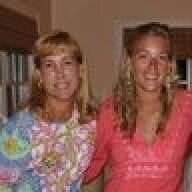 Joined

Nov 18, 2004
Messages

29,570
I haven't asked for dust before, but see the powers of PS dust and all. DD is up for a paid internship with The Federal Reserve. It's for this summer. She had a 3 hour interview. She's an Econ major. The interview was supposed to last an hour or so. He told her he was blown away. He went on and on about her qualifications. The project she would be working on is something she knows a lot about, and clearly knows what it would take to get the job done. She explained it to me, but for the life of me, can't explain what she said. LOL!!!

Right now, she is working as an intern at a large real estate development firm, was one of many that applied for it. She works 2 days a week and school the rest. She's graduating early, so will be searching for the big job next December... That's going to be super tough in this economy.
So any dust you can send, would be greatly appreciated. Thanks!!!!!