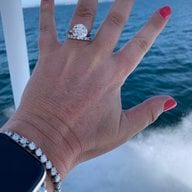 Joined

Jan 16, 2007
Messages

101
Hello over here in Pearl land!!! My second love after diamonds is pearls. I love my two mikimoto A1 7.0-7.5mm pearl strands worn together, worn independently, or layered with a pendant or chain type necklace. I posted a couple of my favorite looks! Well the time as come for a bigger strand. I really want a 9.0-9.5mm akoya pearl strand. I priced out miki A and A+. I will go with A b/c I feel the cost vs quilty doesn't warrant the A+. I also want to be able to layer and being that pearls are on the fragile side I'm not comfortable doing so at the A+ price point. I was set to go and then I started having doubts about layering strands and necklaces with even cost of the A quality miki's. I mean that's a whole lotta moolaa to be spending and then worry about wearing the strand layered (hope that makes sense). So I came here and gathered some info. Wondering your thoughts on this option:
1. A quality miki
vs
2. Hanadama quality akoya's from pearl paradise
I could get TWO 9.0-9.5mm strands from PP and be less than one miki. However, will I see a huge quality diff and regret?