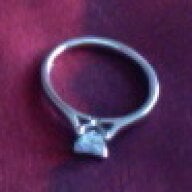 Joined

Mar 4, 2010
Messages

2,357
Dear ItalianHairColor, I need your help
I decided to dye my own hair - because going to a stylist in the UK costs a fortune - but I'm not completely happy with the outcome. My stylist back home told me that she uses L' Oreal 8 and 8.1 (
http://www.loreal-paris.co.uk/hair-colour/all-over-color/excellence/natural-blonde.aspx
) for my colour so I thought I'd do the same. I'm not very happy with the colour she's given me - it's too dark - so I thought I'd just use 8 since 8.1 is darker (by the way, she told me I had to go dark because lighter colours won't hide the white hairs; is that true? I find it hard to believe that all the really blonde women I see have no white hair whatsoever!) .
Anyway, so I dyed it on Sunday and it's still too dark for my liking (see picture 1). I'd rather go lighter (see picture 2 - I know I had highlights there, but you get what I mean about the basic tone; it's much lighter). So what colour would you suggest I use, keeping in mind the colour my hair is right now and the colour I'd like it to be (and the fact that I'd like to cover the whites)? It doesn't have to be L' Oreal again. I'm open to experimentation. Also, how soon can I dye it? Is it 3 weeks?
Help!!!
p.s. sorry I can't upload pics for some reason, so I'm doing pdfs instead.