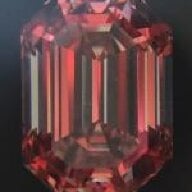 Joined

Jan 13, 2005
Messages

1,831
Hello all!! I am returning after a long time away from the site and a lot of life happening in between! Since I first joined and started looking for my e-ring, I was married for 9 years, but about a year ago we divorced. Now I am with a wonderful new man and happier than ever

and we are working together to build a new engagement ring (planning to wear this one FOREVER!!!)
I've decided I want an emerald cut this time, and I've spent time reading all the good threads here (thanks for all the wonderful info, Gypsy!) So I have a good idea of what I want - of course, cut is king and I want a great performer. Definitely eye clean, but color doesn't bug me - the ring I am selling via consignment with Jewels by Grace is a 1.58 K VS2 OEC, and I loved the warmth of the stone (incidentally, if anyone is looking for a beauuuuuutiful OEC set in a platinum Sophie solitaire, I'd be happy to direct you that way!!!

) . I know that EC's show their warmth more than other cuts, but again, I think the fire thrown off by slightly warmer stones is beautiful. So I'm happy with a stone in the J-K range if all the other things add up.
I've been scouring enchanted diamonds and
james allen
websites, as well as
good old gold
, since these sites seem to have the best pics/videos and some ASETS, and found a few contenders... but last night I came across this guy that totally caught my eye:
https://www.jamesallen.com/loose-diamonds/emerald-cut/1.71-carat-k-color-vs2-clarity-sku-1781985
The GIA cert calls it a "cut-cornered rectangular step cut" instead of an emerald cut due to the corners....and I happen to loooooooove the cut corners that give it more of an octagonal feel. The table is smallish, but that gives it a nice higher crown angle, which I also love. And the LxW dimensions are almost in the typical 2ct face up range, I guess because the weight that would be in the corners is redistributed? I requested an ASET, but the stone cannot be called in for ASET as it is overseas. So if I want to see more, we're gonna have to buy it and see. I have placed it on hold for 48 hrs while we think...so, based on the video, what do you guys think?? I see a little leakage or obstruction face on, but doesn't look too bad. I'm thinking it might be a good performer...opinions??