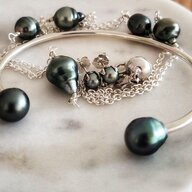 Joined

Nov 27, 2009
Messages

1,402
I hope this section is okay for this... It's not shopping persay so I wasn't sure if it belonged in there it not.

But here goes. I have a small dilemma! I am working on creating my own marbled vanity stand tray. I opened the box of tile and noticed both peices had chips around the edges. I think Home Depot even sent me the wrong tile entirely as well but I kept it because I had already waited 2 weeks already and this was closer to matching the patterning on our fireplace anyway.

So does anyone happen to have any ideas on how I could either 1) get rid of the chips entirely without having to cut the tile or 2) hiding the chips instead? I was considering trying to see if I could get some sort of metal border but I would rather not have to add anything if I don't have to. I think it would look better without it.