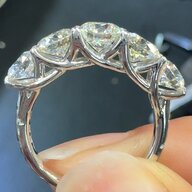 Joined

May 27, 2010
Messages

2,189
Hey There,
So I have seen so may gorgeous moi et too and bypass rings lately they kind of got me intrigued.
I wanted to do a 3 shank bypass ring.
So I repurposed some diamonds I had left over from a diamond band, some studs and an 7 stone. Then I purchased 3 pears and sent my idea to David K. and Amy. All stones total about 2.2 ctw.
When I showed DH the bezel design he said it reminded him of Madusa. I was like 'WHAT'!!
So now I would like to put this to my PS family to help me decide.
Tell me your thoughts. Keep bezels or do prongs?
Aka 'Madusa'