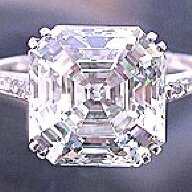 Joined

May 10, 2010
Messages

15
Dear all,
I''ve been learning a lot about Royal Asschers from this forum and have decided that it''s the cut for me. However, living in HK makes it very challenging to find standard Asschers let alone a real Royal Asscher to look at. We''ve called and spoken to local dealers and no one carries them or has ideas on how to source them (nor interested to help). So the next best thing is for us to buy a Royal Asscher online.
We would greatly appreciate your advice on:
1) Which online diamond dealer has a good selection of Royal Asschers (we''ve only come across
BlueNile
and
James Allen
so far)?
2) Has anyone bought or have photos of a
BlueNile
Signature Asscher? They claim to be different than standard asschers but offer no photos on their site for the consumer. We really want to know if it comes close to a Royal Asscher.
3) If we find an Asscher with a GIA report that describes it as "Cut-Cornered Square Step Cut" does this automatically mean it is an authentic Royal Asscher? In which case, will it come with a Royal Asscher certificate as well? I ask this because I have seen such diamonds on
James Allen
. For example the attached GIA cert image.
Thank you for your help!
Best,
Grace