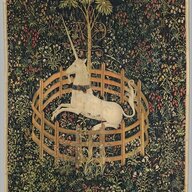 Joined

Sep 13, 2019
Messages

856
Hi friends - I am back! We had a fabulous wedding & trip with a mix of amazing and bittersweet elements. The wedding was a beautiful, a misty and drizzly day.
I couldn't help but take shameless bling pics on our honeymoon at Theodore Roosevelt Ntl Park, Makoshika State Park, & Glacier Ntl Park. It was sadly cut 4 days short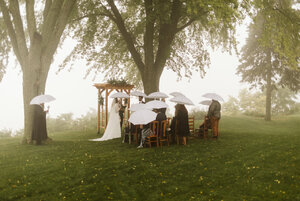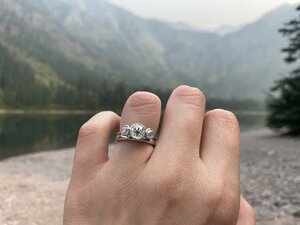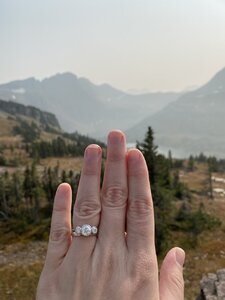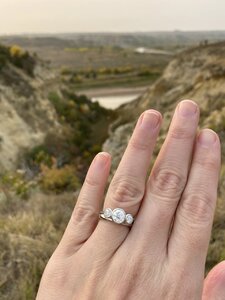 I will spare the heartache, but we got exposed to COVID at my very small, outdoors wedding. We had to go inside at one point during rain....*sigh* - someone else tested positive. We tried to be so careful and only had parents and siblings. As soon as we found out we rushed home, and are getting tested tomorrow. Man this pandemic sucks!
But on to the bling! The ring, is gorgeous. Sorry it got so dirty on the journey from constant hand washing & sanitizing. The diamonds especially, are GORGEOUS and perfectly paired. I will hold off on an SMTB thread for now - as I will get the negative part out of the way.
The ring has a design flaw that I didn't catch in the CADs and frankly I gave up on tweaking the CADs (will explain below). The shank is
very
thin underneath the diamonds, and leaves sore, angry red indents across the top of my finger that got worse after wearing a wedding ring. The ring is
not
too small, in fact, is 1/4 size large. As beautiful as it is, I can't live with that long term. I am going to wear it for now and enjoy it while I have it before dealing with resetting with another designer.I might go for a non-flush style so it doesn't swallow my wedding band so much...but will worry about that later. The bezels, milgrain, and other elements are perfection.
Another word of advice I will offer PS readers as it is a consumer forum and feels only fair to be transparent - PSers reached out to the designer in the middle of the project and really negatively impacted my interactions with him. I had posted a thread asking for CAD help on angling side stones (that I reported and had deleted) that got relayed to him by multiple people (two? more?) that I was complaining /bad-talking him on PS, which really was a totally unfair representation. I made one negative comment about being fussy about tweaking CADs, and also shared that it was bc of a tight timeline and that I had knee-jerk approved CADs and accepted personal blame. I also didn't name him in the thread and by no means meant for anything to get blown out of proportion. But it did.
I don't actually know what was said, but it was really bizarre and uncomfortable on my end and I felt utterly blindsided after everyone was helpful and kind. I didn't want to mention it until after the project was done, and fees were added for continual CAD changes. Which is fine and
totally fair
. but the added stress of interference really made me feel terrible, I was also up against a tight deadline so just wanted the whole thing over with. I want to add positives - rapport initially was really fun, I got a ring on time (which was awesome and my main priority), incredible side stones, and the craftsmanship and appearance is elegant. It just isn't that comfortable for me, might not bother other people.
Hopefully this is helpful. That's a wrap!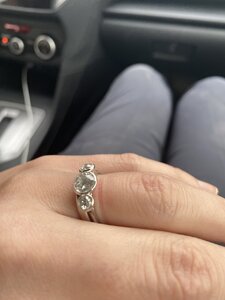 Last edited: