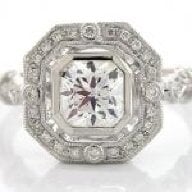 Joined

Feb 20, 2011
Messages

1,268
I was going to wait to post this, in case my ring came out horribly wrong and I needed to pick a 2nd choice. However, I'm pretty sure GOG will handle it and I can't wait to get my ring in 3 weeks!
Backstory:
I initially wanted an asscher because I'm a huge art deco fan. My old apartments had all original art deco features and our house is even from that era (unfortunately with no original parts). After researching and having a coworker receive an emerald cut that she spent the better part of the day polishing with tiny cloths while blowing on it, I started researching square radiants. Same shape, more bling!
I go into jewelry stores all the time, and made my own wire wrapped jewelry for years, so I've been to many gem shows and semi precious gem dealers. My promise ring (RHR) is a 6 mm pink tourmaline modified princess with shared prong diamond sides (well, the original I lost at the grocery store - darn cold fingers - was a Harry Winston style pink quartz with white sapphires instead of diamonds. Argh.). We put it together at a Gem Fair - picked out the stone and then setting. Another booth had a bench that set it and sized it for $75 in an hour. It was a cheaper chinese semi mount. It was a good experience to go through! I also had a temp ring, a sterling cz 6 mm princess with milgrained pave halo. Glad I had a temp ring to help me figure out what I wanted in my forever ring.
Did a ton of research online on radiants a couple of years ago - thanks Pricescope! Was leaning towards the Harry Winston style to honor my lost ring. It was such a nice combination of modern with a hint of antique. I've been in a ton of jewelry stores in the past couple years (especially in the past 6 months!), but here are the highlights.
First trip - Icing on the Ring - Los Angeles Jewelry district - 607 Hill St
Made an appointment online for a Saturday (the worst possible day you can head down to the jewelry district!). They were running a bit late, so their "runner" went to collect all the requested stones from their wholesalers on memo. My requirements - approx 5.5 mm, I'm open to lower clarity, and wanted to see colors in person. I was initially looking at going with an I color, before I realized James Allen picture colors aren't true to life.
What I learned - whooooaaa! I'm am super color sensitive. I can probably make a living sorting diamonds, if needed to.
I loved the crushed ice D because it faced up even whiter. What I didn't know at the time is that most of the radiants I was viewing probably weren't ideal cuts (although they were very nice!), and I was drawn to the crushed ice due to the color. In the office lighting, the crushed ice threw out gorgeous pinpoints of light. Since I was looking a a full pave setting (esp. in jewelry store lighting), I was just going for a big white stone in the middle - not concerned about brilliance. I couldn't go down fast F, my eyes just don't like lower colors. I love lower OECs, but not for my e-ring.
Icing on the Ring was very nice, though very busy on Saturdays. They make their rings in China and assemble them here. Their prices were MUCH better when I looked - $1195 for a Harry Winston pave style, plus I was looking at $2200 for a .77 D SI1 5.87 x 5.34. I was ready to order, but hubby wanted to save up a bit more cushion in his savings. Family illnesses ensued and we picked up the search a couple of months ago. Prices for the ring went up to $1850 and at that point, it made sense to look else where for the same quality or better.
The finalists - with the highest color finalists at the bottom.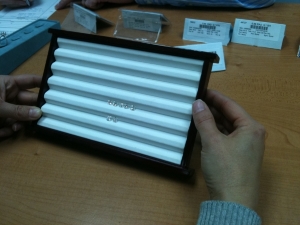 setting -