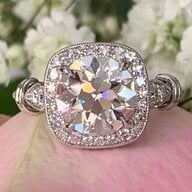 Joined

Jan 11, 2006
Messages

58,485
Recently my mother gave me a 1 ct. family diamond that was appraised as H VVS. It was a good quality stone but poorly cut. It bothered me to have one diamond that was so poorly cut in comparison to my H&A stones. So I sent the diamond to
Brian Gavin
to see if it could be re-cut. He said it would probably end up around 6mm and .80, and that was fine with me to get a much more beautiful stone to hand down to my daughter!
While waiting on the recut, I did a poll here to get some help deciding on a pendant setting! The overwhelming choice was a
Brian Gavin
milgrain bezel pendant. The Barbara pendant has been pretty popular, but I was uncertain whether I liked the back. So I called and explained it to Jamie, and she had me speak with Brian about options to redesign the back. So I ordered the pendant to set my newly recut diamond!
On Monday of this week, I received the glamour shots of the pendant! I was afraid at first because the milgrain was SO huge in the magnified picture! However, let me just say that the milgrain is tiny, delicate, beautiful, and perfect in real life!

While the diamond is not a perfect H&A stone, you'd never know it to look at it! It is gorgeous and I cannot tell a difference between it and my H&A stones! I highly recommend Brian for recuts!!!

The .80 with the bezel is a nice size to wear everyday. I chose a 17" chain. The pendant came today so I am posting the BG photos and then a few of my own.
Many thanks to Jamie who is always a pleasure to work with, and of course, to Brian and Lesley for their excellent diamonds and jewelry! I am proud to add this piece to my little collection!