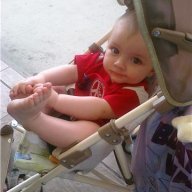 Joined

Jan 18, 2008
Messages

515
Morning Ladies! Today is my Anatomy Scan! I am schedualed for 1pm. As of today I am 19wks1d. I will attach a belly pic that was taken yesterday at 19wks. I know my belly isnt very big but I thought it would be fun to guess anyway. Personally my DH and I have had a gut feeling from like the 1st week we knew we were PG that it was a boy. But heck its a 50/50 lol so lets get some guesses!


A) I think S.C. is having a Boy

B) I think S.C. is having a Girl

C) I don't give a damn if your're not sure...guess ANYWAY cuz its FUN!
lol