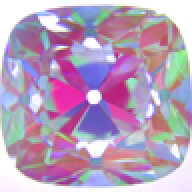 Joined

May 27, 2004
Messages

278
Hi Everyone,
As discussed on the "
Bruce Boone
with a diamond that I obtained from a friend. Ever since I was a kid, I've had this strange fascination with material science and gemology seemed to be a real world manifestation of that... meaning I like stones with optical phenomena, like Star Sapphires, Color Change Garnets/Alexanderite, etc...
After reading all the great recent strides with the optical optimization when it comes to diamond cutting and reading endlessly about light leakage, brilliant scopes, ideal scopes, sarin, I figured why not get one of these little wonders and see what all the hype was about.
In addition, I was definitely stuck on the idea of getting a TENSION setting since I had never seen one before and the idea of melding high tech machining, space age metals, with a sense of sleek archetectural design, who could resist.
Any how, while I know its not the norm for guys to wear diamonds, it entertains me to no end looking at the light dispersion, and optical patterns that emerge from different lighting sources, so besides looking plain cool, its a great distraction during those boring meetings etc.
I would also like to deeply thank Mr Boone for the great communication and top notch service he provided me, from design aspects, to schematics of potential rings, to an painstaking fabrication of nothing short of amazing with an unheard of turn around time of a few days to boot (DURING the Christmas season no less!). Having just received the package today, I have gotten no less that 12 compliments and questions about it, especially regarding its unusual construction.
So here it is... comments are welcome, thanks for looking
Scott
ps the diamond is a neat,
Cushette
branded diamond:
0.39cts J VS2