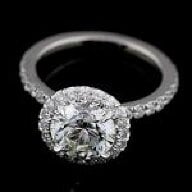 Joined

Dec 7, 2004
Messages

1,424
Happen to be in the Westchester Mall today and strolled into
BN
store, the 2nd store, the other in Roosevelt Field on LI. They are building another one at Tysons Corner, VA.
There are quite a few diamonds/settings on display. No diamonds in the rings, all CZ.
They sell you on the setting in the store and then pick out a diamond. No ASET or pictures, they just have computers which goes to their website to pick out the diamond once you pick out the setting.
PSers would find it very basic. I did not think the sales help was knowledgable. When I picked up a halo setting, did not like the airline. Salesperson had no idea what I was talking about.
However, I think they will do well in the mall. Kay Jewelers in the mall (garbage) and Tiffany's, so
BN
right in the middle in most peoples minds.