Hi everyone.
It's me again. I understand that it's personal preference when it comes to size or sparkle. But I am struggling to make the decision.
Should I get the "amazing" and "rare" diamond ? or
Should I get a bigger Diamond and it's still as sparkle in naked eyes ?
I am getting one of these diamonds for myself. I am Asian and I like 8.8.
Which diamond would be better for re-sell ?
Please refer to attachments
G - VVS2 - 2.23 - True Hearts - 8.43 x 8.4
HCA: 1.1 . Look Big for its carat weight
8824984 - This True Hearts<sup>TM</sup> diamond, 2.23 Carat G Color VVS2 Clarity has ideal proportions and a diamond grading report from GIA
www.jamesallen.com
G - VS2 - 2.70 - Excellent - 8.8 x 8.87
HCA: 1.6. Look Small for its carat weight
9092931 - This 2.70 Carat Round diamond G Color VS2 Clarity has Excellent proportions and a diamond grading report from GIA
www.jamesallen.com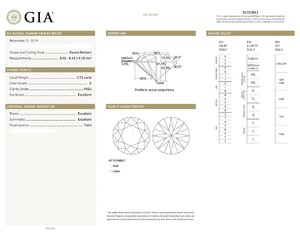 Last edited: