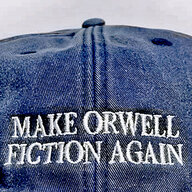 Joined

Apr 30, 2005
Messages

31,472
Strangest thing ever.
He was sitting next to me, when a big loud Harley Davidson chopper [modified to be
EXTRA LOUD
] drove by and reved its engine
LOUDLY
!!!
Scared the shit out of the bird, and his tail feathers just fell right out of him.
I thought he had exploded.
He just squaked, jumped up and all these feathers fluttered to the floor.
There was no blood and he seemed in no pain at all.
Everything was normal except he had no tail feathers.
All the other feathers are fine.
That was about 2 weeks ago, and the new ones are already coming in.
Before they started to grow in we almost renamed him Avacado because from the top that's what he looked like.
I called a vet and she said sometimes a fright does that.
It's a survival mechanism shared with some lizards which can literally get go of their tails (the actual flesh) when a predator grabs it.
The animal can escape death and grow a new tail.
The new feathers have a bit of green on the tips that the old ones did not have.