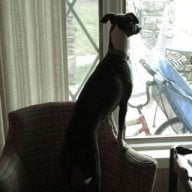 Joined

Apr 14, 2009
Messages

172
Hey all,
I''''m new, but have been lurking for a while looking for ideas--you are all so sweet and knowledgeable; I hope you can help me out! I have a 1 carat European cut diamond that my husband inherited. He very sweetly had it set onto a similarly vintage eternity band that I already owned, and I''''ve worn that for almost two years now (pic is attached--sorry for the poor quality). Neither of us knew anything about diamonds when we got engaged, so I guess we kind of took the easy route.
It''''s absolutely beautiful and I get many compliments on it. However, I have a couple of problems with it. First of all, I''''m a nurse, and an athlete, and a general destroyer of all things expensive. Every piece of this ring is circa 1920s and quite delicate, and I''''m terrified I''''m going to ruin it. Secondly, I recently cracked and bent part of the band (currently getting that fixed), and that was kind of a wake-up call.
So I''''ve been seriously considering getting it reset in something safer, and sturdier. I never really thought about bezel settings but frankly, this is THE diamond that I ever want to wear (it''''s an heirloom, you know?) and I want to protect it. I''''ve read elsewhere on this message board that bezels or semi-bezels are safer, so I''''m now heading that route.
I found one Sholdt setting that I really love (
http://www.pearlmansjewelers.com/jewelry-designers/sholdt-jewelry/rings/31ZZ1/
) but does it have enough coverage to adequately protect the diamond? I like the semi-bezels because they allow more of the stone to show...I also love that setting because of the small but not overwhelming diamonds accenting the sides. I think halos are pretty but maybe a little too gaudy for me...I want something more than a simple solitaire, but not TOO blingy.
Any ideas would be greatly appreciated, including ideas for how to go about procuring this setting...not sure I want to go custom because of the price, but I have no idea how to get a good deal online, either. So basically, I''''m clueless! Help!!!
Thanks much, CBL