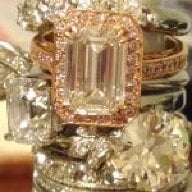 Joined

Jan 8, 2008
Messages

2,362
Hey y'all,
I am planning my first project with pearls! I want to order the pearls and need some guidance on which overtone to pick. These are the pearls I'm looking at in AA quality:
http://www.pearlparadise.com/ByTheInch-6065-mm-White-Akoya--Partial-Hank199.aspx
The necklace will be a double strand of pearls with an aquamarine colored 6 ct tourmaline in the center. Probably in yellow gold unless someone has an opinion.
Below is inspiration necklace (I'll do scrolling metalwork instead of a halo). Also a pic to show you my skin tone and hair color, I'm mostly pasty and pink. The only pearls I have currently I think would be called rose. I was thinking silver would be appealingly different especially with the icy stone but I have heard silver overtone looks better on tanned skin and that definitely isn't me.