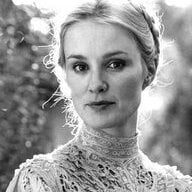 Joined

Apr 29, 2019
Messages

1,143
I'm completely in love with the inside out diamond hoop earrings that Kristen Welker wore while moderating the last presidential debate. Tell me your best guesses as to their specs, specifically:
1. The diameter of the hoops
2. The size of the diamonds
3. The total number of diamonds
Perhaps some of the pros on here have an opinion? Last time I asked about the size of Angelina Jolie's diamond stud earrings,
@Garry H (Cut Nut)
knew the answer!
(Color & clarity doesn't matter because if I were to recreate these babies then I'd go my own way on that matter.
)
Thanks in advance!