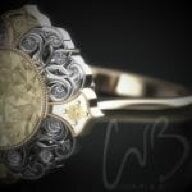 Joined

Aug 22, 2007
Messages

954
Hello again!
My SO and I purchased a 1.01 F Jubilee from
GOG
a few (long) months ago and had a temporary setting made at the time of purchase. Now, we're looking for the best bench to commission a different setting for the stone. For $700 we got the first in 18kWG, but I'm still on a bit of a budget when it comes to the new setting and I want to stay around saaaay- double the original.
I know I definitely want [#1] a 1.5mm, impeccably symmetrical octagonal shaped bezel to accentuate the outline of the Jubilee stone (such as lil_misfit's beautiful
BGD
asscher

), [#2] a low setting to keep from catching on things [#3] a reasonably thin 2mm-ish comfort shank with no melee [#4] budget permitting: an art deco feeling to the setting (like maybe a semi-precious stone halo or shoulder details/some sort of scroll or flora design on the profile.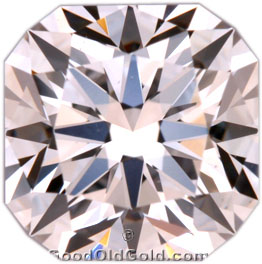 Sample Jubilee stone.
lil_misfit's reset.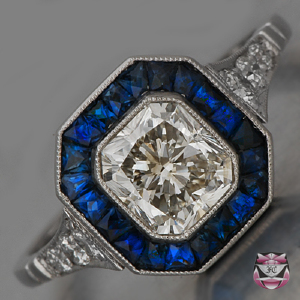 Fay Cullen sold compete.
Random ebay ring.
So, my lovely and all-knowing PSers... who should I be contacting for quotes?