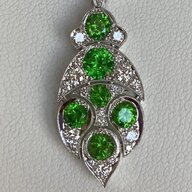 Joined

Jul 3, 2012
Messages

333
Hi all! It's been ages since I was regularly posting here. After having my 2nd kid, I was short on time and money for jewelry, and my husband also became a lapidary himself as a hobby (has never sold his stones), so we were spending a fair bit of money on gem rough. I would sporadically check in on the forum from time to time, but now that I finally have a project to share (and it's a doozy, if I do say so myself!), I wanted to come back and show it here because most people I know IRL just wouldn't get it.
Background: Several years ago, I began collecting Russian Demantoid garnets with the idea of one day having them made into a very special pendant. I posted about this on a previous thread but continued to collect even more demantoids after that!
Hi everyone - long time, no see! I've taken a long break from Pricescope, during which time I have only acquired a very limited number of new stones, and none that I have set. However, I have a real weakness for Russian Demantoids. Unfortunately, they are difficult to find in larger sizes...
Here is a line-up of *some* of the stones: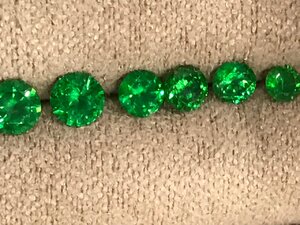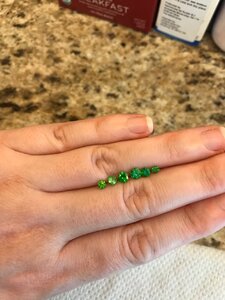 All in, I ended up with 13 Demantoids (+ 2 Topazolites) -- too much for any one project, but I kept collecting them so that I'd have enough to get a perfectly matched suite + probably some leftovers if I ever wanted to make earrings later. I could have set all the stones just as pictured, in 3 linear drops, but I wanted something more unique and I wear pendants MUCH more often than I wear earrings (my ears are sensitive to all earrings, regardless of metal, and I can't keep earrings in for more than a few hours without issues.)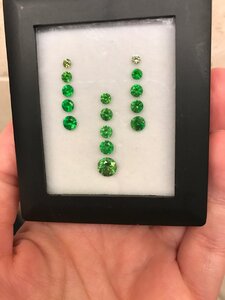 I had long been an admirer of Scott Schreiber's work on facebook, but I wasn't sure if his aesthetic was right for this project, because I hadn't seen him do that many vintage-looking pieces. However, he's a huge fan of the early 20th century style of jewelry, considers the house of Cartier from 1900-1930 to be his favorite muse, and he'd been itching to work with Russian Demantoids but assumed he'd never get to because of the rarity factor. So I decided that he was just the right person for the job. The project took quite a while, but I daresay it's been worth the wait. I am *thrilled* with the end result.
I gave Scott nearly carte blanche to design what he wanted. I told him I wanted it to be done in platinum, Edwardian-inspired, hand-fabricated, very traditional. I like drop shapes, air gaps, milgrain, and nature-inspired designs like leaves and flowers. Edwardian is my very favorite, but I like a fair bit of Art Nouveau and Art Deco as well. I sent him a folder of inspiration pics just to show the various styles of jewelry I like.
I sent him all of the demantoids, and he cherry-picked the very best 6 from the suite. They are very well matched in tone and saturation. They all have the coveted horsetail inclusions. They positively GLOW. They bewitch me in a way that no other colored stone does. (My other favorites are Mahenge/Jedi spinels, Emeralds, and Paraibas… but these Demantoids are my personal
ne plus ultra
of colored stones.)
This was the hand-rendering he came up with. He sent it with clarification that the rendering only captures the essence of the design, as many details are omitted in the rendering step ... the rendering makes it look like the pendant will have large swaths of bare platinum, because it omits all the bead/pave setting details, brightcutting, milgrain, etc. I was reassured that the actual pendant would not look so modern.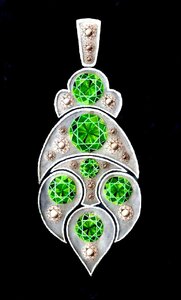 I also requested to add (where the sloppy yellow dots are) 4 additional diamond melee to fill out the field a bit more.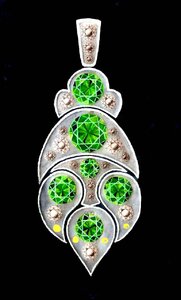 To be continued....