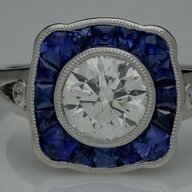 Joined

Nov 1, 2007
Messages

3,333
Here is the short version-
Excellent communication, excellent customer service, great prices, gorgeous diamond, 60 day return period.
Long Version:
I am on the hunt for an over 2 carat OEC. I was very interested in one that Beladora had on their website. I was able to speak to Russel Fogarty directly who was very helpful in giving me his opinion of the diamond.
I purchased the diamond and it was much more beautiful than their website pictures. They even put the diamond in a temporary setting- gold solitaire ring per my request. I included their picture and one I took of the diamond on hand. Even with my bad Iphone pictures you can see- the diamond was much prettier than pictured with flowery facets and crisp contrast zones. The colors it threw off were amazing. I was going to keep the diamond until my husband commented that the diamond (N color) was too similar to my wedding ring diamond and suggested I go up in color.
I contacted Debbie, Russel's assistant from Beladora for a return. She was very helpful in all regards. I was immediately sent an insured shipping label for the return and an apology that the diamond did not meet my expectation. The diamond exceeded my expectation so it is just really a matter of finding the right diamond for me. I will be searching again after the Holidays and am very hopeful to purchase from Beladora again.
I was notified immediately when the diamond arrived to Beladora and was issued an immediate refund. The communication through the whole process was top notch.
Here are the pics for comparison.
Beladora pic (large diamond).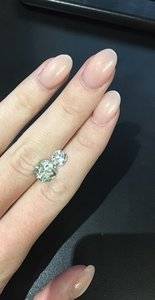 My pics.